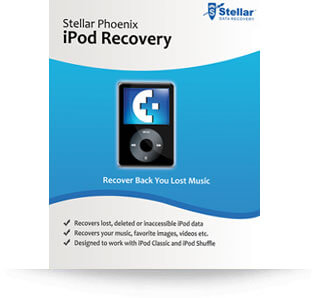 Stellar iPod Data Recovery
iPod Recovery Software die recovery van verloren, gewiste of geformatteerde iPod data mogelijk maakt. Deze effectieve software ondersteunt verscheidene audio-, video- en image-file formats en recovery van audioboeken, pod casts en andere iPod data.
Herstelt muziekbestanden, audiobestanden, videobestanden, afbeeldingen en documenten.
Herstelt geformatteerde, verloren of gewiste data van iPod Classic en Shuffle.
Mogelijkheid om een image te maken van iPod data.

Software specificaties
Versie : 2.1
Taal : English
Platform : Windows 2K, Windows XP, Windows Vista, Windows 7
RAM : 256 MB recommended
Harde schijf : 20 MB free space
Supported Files - MIDI, AIFF, M4A, OGG, RPS, M4P, AU, AVI, MOV, ASF, WMV, MP4, WMA, MP3, MPG, MPEG, GIF, WAV etc.