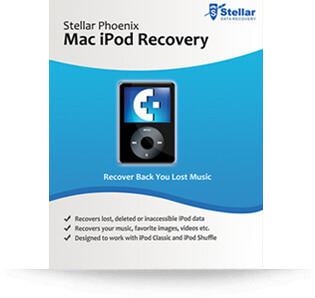 Stellar IPod Recovery (Mac)
Stellar Mac iPod Recovery software herstelt gewiste of verloren data van uwiPod. Deze Mac-software biedt u de mogelijkheid om alle iPod-items, zoals songs, audiobestanden, podcasts, video's, foto's en andere multimediabestanden zonder daarbij de integriteit van de data aan te tasten.
Herstelt gewiste of geformatteerde data van iPod Classic en Shuffle.
Biedt de mogelijkheid tot snel herstel van verloren data.
File Filter optie om de tijdsduur van het scannen te bekorten.

Software specificaties
Versie : 2.1
Taal : English
Platform : Mac OS X 10.4, 10.5, 10.6, Snow Leopard
RAM : 256 MB RAM or more
Harde schijf : 20 MB free space
Supported Files - MIDI, AIFF, M4A, OGC, RPS, M4P, AU, AVI, MOV, ASF, WMV, MP4, WMA, MP3, MPG, MPEG, GIF, WAV etc.